By: Patrick McCann, Astarte Medical Intern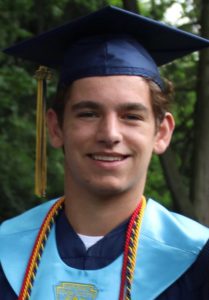 Like many others, the end of my senior year of high school was heavily impacted by COVID-19, and I was left with a difficult decision to make with regard to my next step. After waiting anxiously on the waitlist at my dream school, the University of North Carolina Chapel Hill, I was accepted on June 19, 2020. I was very excited to attend UNC in the fall, so I quickly went through everything I needed to do to be ready for the fall, such as housing and picking classes. Although I was eager to get to campus in the fall, I knew my experience freshman year would be heavily impacted by COVID-19. As a result, with the help and guidance of my parents, I decided to defer my admission, and take a gap year. I planned to finish working at the Jersey Shore at my summer job, then return to my home in Springfield, PA, and work at the local golf course, along with tutoring middle school students. Little did I know, I was about to make one of the best decisions of my life by getting a golden opportunity.
When the opportunity to interview at Astarte Medical arose, I was very indifferent about what to do. At 19 years old, I have worked at numerous jobs, however, I have never had a more formal "nine to five" desk job. I had worked mostly jobs that were outside in the hospitality/restaurant business. All things considered, I knew this job would provide me with priceless experience, meaningful connections, and knowledge that would help me through and after college. I decided to go through the interview process and went on to accept the ensuing job offer.
I was very unsure what to expect on the first day working at Astarte Medical, especially with it being all remote. My calendar for the first week was already full of various meetings, along with emails from my coworkers regarding projects that I would be working on. This was the first time I was getting a taste of what it was like to work at a more traditional "desk job." To commence my onboarding, I was directed toward a large catalog of resources and publications to familiarize myself with what Astarte Medical was about, and the background knowledge that goes along with it. "NICU", "Enteral Feeding", "Necrotizing Enterocolitis", and "Alpha Diversity." These are all terms that I had almost no understanding of before coming to this job. However, I quickly learned the meaning of these terms and how they apply to the mission of Astarte Medical in providing better health outcomes in the first 1000 days of life.
Even though my experience has been all remote, I have learned more than I ever could have imagined working this job. What I enjoyed most about this experience is the multitude of different projects and areas that I was asked to work in. From market research on potential prospects to data analysis for NICUbiome®, I was glad to be exposed to the different areas of the business.
The work I found most interesting throughout my time at Astarte Medical was researching various venture capital firms to help CEO Tracy Warren prepare for her fundraising calls along with trying to find funds that aligned with Astarte Medical. It was interesting to learn about the components of a venture fund such as their strategy and portfolio companies and then pulling the information that would be helpful to note for Astarte Medical. In my research, I found it interesting looking through the multitude of companies that I have never heard of in the portfolios of these venture groups. I was glad to be exposed to the sector of venture capital and fundraising. It is certainly a field that I am considering pursuing after college.
My most nerve-racking experience at this job was the presentation I was required to give to the entire team. It was simply a presentation relating to the work that one was doing in the company. My topic was "Venture Capital," since I had spent a fair amount of time researching these venture funds. What made me the most nervous was knowing that both the CEO and CFO were very knowledgeable on this topic, while I on the other hand had just started learning about it. All that considered, it was a great experience for me that I got to dive deeper into venture capital and was able to test my public speaking skills.
All in all, this endeavor has been very meaningful to me and has provided me with experience that I would not be able to obtain through a college lecture. I can clearly see that Astarte Medical has a strong team that is destined to make a substantial impact on infants and mothers in the future, and I was glad to be a part of it.
After this, I plan to return to my summer job in Sea Isle City, New Jersey, then I will be off to Chapel Hill to pursue a degree in finance.