By Alexandra Alicea and Alexandra Barrata
Our Summer Interns Share Their Experience
We had the privilege to welcome two hard working young women to our team as summer business interns. Alexandra (Lexie) Alicea, now in her second year of the MBA program at Temple University, and Alexandra (Ali) Barrata, now in her junior year at Swarthmore College, made tremendous contributions to the business in so many ways and we were thrilled to have them here with us for the summer. We asked them to write about their experience at Astarte Medical. Please read on!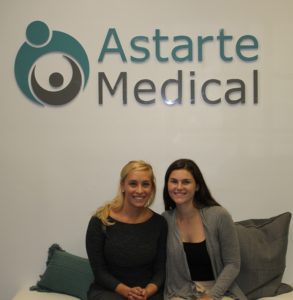 The posted job notice read:
We are seeking an energetic, self-starter who wants real world start-up experience with one of the most exciting health IT companies in the Philadelphia area. Our business intern will assist the executive team with research, market planning, business plan development,  competitive assessment. The role includes time in our Yardley, PA office and will be hands on, with weekly team meetings, as well as exposure to fundraising and capital planning.
My Summer Internship at a Pioneer in Healthcare Transformation
By Alexandra Alicea
I have always been dedicated to leveraging technology to generate efficient solutions. In 2018, I decided to explore graduate school to help further my career as a problem solver.  The summer between my two years of business school was a chance to embark on my next career adventure and I was certain that I was going to focus heavily on expanding my knowledge in healthcare to ultimately help patients. I targeted my search for a summer internship to the companies that created technical solutions for the healthcare industry. It was an added bonus if the company's solution could improve access, quality or cost of care for a specific population of patients. To my surprise, I found a startup company, Astarte Medical, right in my backyard in the Greater Philadelphia Area that was  developing a software with the potential to improve all three.
Founded in 2016, and now 7 employees large, Astarte Medical is the only precision medicine company using software and predictive analytics to focus on optimizing care and improve outcomes for the tiniest, most vulnerable and highest risk patients: preterm infants. The company is in the process of building a suite of software solutions, branded NICUtrition ®, that strategically integrates clinical, microbiome and nutritional data to help guide, track and manage the growth and development of infants in the Neonatal Intensive Care Units (NICUs) of hospitals. After only one conversation with the women who cofounded and lead the company, Tracy Warren (CEO) and Tammi Jantzen (CFO), I decided that this opportunity and team was one I could not miss out on.
At the beginning of the summer I was excited to get started but I also didn't know what to expect day to day in a young business. The thought of working for a healthcare technology startup was intimidating because healthcare, technology and startup all seem daunting due to their traditionally complex and ever-changing nature. They always say the professionals of small companies wear many hats, but how many hats would I need to succeed this summer, and did I have them in my work tote bag?
One hat I tried on this summer was a Technology Project Manager's hat. I expected to gain exposure to the company's software solution that guides the feedings for infants in the NICU. I ended up learning about the software architecture of a technology rules engine solution. I learned about parenteral and enteral feeding protocols established at various hospitals and the thought processes and mental calculations of the nurses in the NICU from clinical partners and advisors. With my new knowledge, I created decision trees, data models, data tables, data import files, screen interfaces, functional documentation, test cases and system defects to communicate my understanding of the processes and to help manage enhancements that made the product even more intuitive for end users. I was proud to serve as one of the many driving forces that helped to shape the nutritional software that will improve the growth of healthcare's tiniest patients.
The second hat I tried on this summer was a Business Analyst's hat. I expected to research and write a business case for a healthcare product. I ended up learning about venture capital funding from two experienced venture capitalists (our own co-founders Tracy and Tammi!). I learned the financial components imperative to early-stage startups and how to outline, organize and structure a robust yet concise business plan for investors. With my new knowledge (and the help of some of those first-year business school classes), I developed and communicated the core problem that Astarte Medical is working to overcome with their software solution suite for the business plan. I actively contributed to strategy sessions that helped brainstorm qualitative and quantitative return on investment metrics and marketing approaches. I worked with a team to build a competitor analysis matrix which conveys the company's capabilities, competencies and competitive advantages. I identified and summarized NICUtrition's benefits to its value to healthcare industry enterprises, including the major business impacts that would gain the attention of hospital leadership, in digestible diagrams and infographics. I was honored to problem solve and partner with esteemed industry experts, including clinicians like Katherine Gregory, RN, PhD and scientists like Daniel Beiting, PhD, to hash out the business strategies.
A third hat I tried this summer was a Sales Representative's hat. I expected to build-out a target customer pipeline. I ended up learning how to research, compile, verify, rank, map and track potential customers. I learned the importance of pilot, clinical trial and paid engagements in early healthcare ventures. I learned about the structure and organization of hospital systems, hospitals and NICU departments and the areas of focus for many neonatologists across the country. With my new knowledge, I drafted custom communications to medical professionals and business leadership in healthcare. I took on managerial roles to prepare the talking points and materials for business meetings. I  proactively participated in working sessions and software demonstrations with hospital leadership and clinical staff. I promoted the company on social media and in local tech and healthcare communities to drive awareness and enthusiasm. I was elated to progress my knowledge of the industry and expand my relationships in the industry.
During my summer at Astarte Medical, I was indeed able to wear many hats while developing my hard skills and working right in the sweet spot where technology, business and sales intersect. Among these experiences, I was also able to develop my soft skills. I was always encouraged to speak up about my ideas on software development calls or when brainstorming with leadership in strategy sessions. I was nudged out of my comfort zone when designing a health status indicator and delivering presentations. I was inspired to accumulate as much industry knowledge as possible by diving into the raw publications and integrating with industry subject matter experts (lab technicians, bioinformaticians, machine learning statisticians, etc.). I was exposed to incredible role models who made social impact a top priority. I also got to serve as a mentor to younger professionals. Change in the healthcare industry is imminent, and it takes a special team of hard workers, like my colleagues at Astarte Medical, to attain the courage needed to start a new business that will help progress the industry for the ultimate customers: the patients.
In business school I learned that in order to drive change, qualities like the ability to manage, persistence and inspiring a team are critical but this summer at Astarte Medical I saw this in action. It was rewarding to work with a small team that is up against a big goal. Larry Page, the Co-Founder of Google once said, "Always deliver more than expected." I hope that I was able to achieve this in my summer internship at Astarte Medical. They certainly did this for me with regard to their mission and passion and they are doing this for the tiniest patients in healthcare with regard to their hard work.
Improving access, quality and cost of care for a specific population is no easy feat and for this, and all the reasons listed above, I would describe Astarte Medical as a pioneer in healthcare transformation. After three months with the business, I believe the NICUtrition software has the potential to revolutionize the care of preterm infants by enabling personalized care and nutrition and rendering quantitative data about gut health.
My Summer at Astarte Medical
By Ali Baratta
Only 6.6% of Fortune 500 Companies have female CEOs. Only 17% of startup companies have at least one female founder. How about three female founders? Only 2.5% of all venture capital backed startups have an all-female founding team.
I knew I wanted to work for a startup company this summer. I wanted to be a part of a small team working towards a big goal in a fast paced, collaborative environment. I wanted to build strong connections with my coworkers and be inspired by the people around me. When I began my search for a summer internship, I was fortunate enough to come across Astarte Medical and be given the opportunity to be the Business and Marketing Intern for the summer. Out of the thousands of startups in America, Astarte Medical is a part of the 2.5% with an all-female founding team. I had the pleasure to work very closely with Tracy Warren, co-founder and CEO, Tammi Janzen, co-founder and CFO, and Kate Gregory, Scientific Founder.
I am a junior in college pursuing a degree in computer science. Similar to venture capital, business management, medicine, and finance, computer programming is traditionally not a field with a lot of women. That is why it was essential and inspiring for me to be surrounded by women mentors like Tracy, Tammi, and Kate.
This summer I had the opportunity to work closely with Tracy on Astarte Medical's Social Impact Project. I was tasked with researching and understanding the racial and economic disparities and inequalities that exist between and within US NICUs. Then, Tracy and I worked together to develop a targeted solution to address those issues while staying within the realm of our existing solution, NICUtrition.
I also had the opportunity to work alongside Tammi organizing, outlining, and drafting Astarte Medical's Business Plan. After weekly meetings and check-ins, we had the entire business plan outlined, lots of visualizations and graphics created, and three sections drafted by the end of the summer.
In addition, I had the pleasure of meeting Kate twice during my internship. I was able to present some of my ideas about the Social Impact Project to her and receive thoughtful insight on how to make my work more suitable to current NICU needs.
As simple as it may seem, one of my greatest takeaways from my summer at Astarte Medical is to always seek out professional environments filled with intelligent, hardworking, and inspiring people like Tracy, Tammi, and Kate.