By David Genetti, President, Clinical Technologies
The Future of Healthcare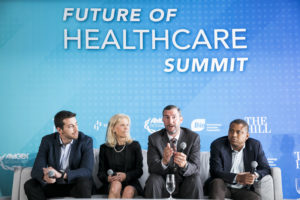 The Hill recently held a summit on the Future of Healthcare in Washington DC.  I had the honor to be among the US Senators, FDA chiefs, Health Department heads and CEOs to present.  Given the audience and the topic, there was the expected focus on payments, political agendas and regulatory issues.
I was a panelist on the topic of technology transforming care.  We are now ten years into the Health Information Technology for Economic and Clinical Health Act (HITECH Act).  One of the central features of the HITECH Act was to motivate the adoption of Electronic Health Records (EHR).  The HITECH Act initially established $27 Billion to subsidize EHR adoption by hospital systems.  Many estimates indicate that the actual amount spent is in excess of $32 Billion.
In our discussion, it became clear that individual patients and the industry as a whole have not received the promised value from this massive investment.  The big idea was that electronic records would streamline information sharing and provide access by patients to their own data.   In general, these lofty goals have not been met.  Patients are charged fees to receive copies of their own data.  EHR systems entirely lack inter-operability, even within a single healthcare system, hospitals are unable to share data despite new and, dedicated teams focused on this challenge.  Care quality is driven largely by reimbursements and has not changed dramatically as a result of the implementation of EHRs.
In the wake of the HITECH Act, a small number of very large EHR providers has emerged.  Epic and Cerner dominate the large hospital systems.  There are a few other players that have created a strong niche for smaller practices.  Universally, the EHRs have added a significant financial burden on healthcare systems.  Small practices have been forced to either add dedicated staff or engage third party consultants to manage a new technology that also requires retraining staff.  Large hospital systems have been driven into a consolidation movement in order to afford the massive cost of implementing one of the large EHR systems.  Epic installation projects routinely exceed $10 Million with the largest implementations running into the Billions of dollars.  The VA's implementation of Cerner is estimated to be in the $10 billion range.
You can provide a lot of quality healthcare for a billion dollars.
The power of electronic data resides in its ability to be accessed, analyzed and utilized.  While we have seen standards and interoperability groups make heroic efforts to facilitate interconnection capabilities, they almost universally come to the same conclusion – as of today, healthcare technology interoperability is a myth.  We have worked with major hospital systems that have declared that they simply do not have anyone on staff that knows how to query their own EHR.  There is increasingly an abdication of communication to the EHR as well.  If we capture the minutiae in the electronic system, the need to transfer that knowledge verbally at shift change is diminished.
At Astarte Medical, we refer to our work as "liberating" data from the EHR to provide better data, better care and better outcomes.  We have produced inestimable amounts of medical record data.  We are working to create a standard set of APIs that we can apply across diverse EHR environments to power clinical decision support tools and analytics related to nutrition in the NICU.  We provide intuitive and informative user interfaces that allow for configuration by each user.  We do this using modern web interface tools as opposed to the antiquated client server tools provided by the large EHR providers.
The future of healthcare is going to depend upon concerted efforts by regulatory agencies, solution providers, and individual hospital and healthcare institutions being committed to fulfilling the promise of the HITECH Act. Collective dedication to the goal of true interoperability and standards will allow us all to translate this data into action.  Astarte Medical stands ready to play our role in this most worthy of missions.