By:  Tammi Jantzen, Co-founder & CFO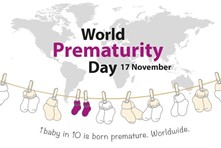 World Prematurity Day is a global movement observed on November 17 each year to raise awareness of premature birth and the concerns of preterm infants and invoke compassion for families who have experienced preterm birth.  Worldwide, one in ten babies is born too soon – 380,000 in the U.S. each year. Preterm birth is truly a problem that can happen to any one of us, irrespective of the country we live in, our culture, or our socioeconomic status.  It can even happen to the Neonatal ICU ("NICU") nurses who care for these infants born too soon.
The Story of Sam
In the early days of Astarte Medical, I had the pleasure of speaking to a NICU nurse who had experienced preterm birth.  Her son, Sam, was born at 26 weeks gestational age weighing just 520 grams (18 oz).  He spent 101 days in the NICU.  Sam suffered from retinopathy of prematurity (a potentially blinding disease), necrotizing enterocolitis (a devasting GI disease), chronic lung disease, and growth failure.  Similar to when you take your child to the pediatrician, special growth charts have been developed for preterm infants to track their weight, length, and head circumference to that of the healthy growing fetus.  Sam's birthweight put him at the 25th percentile for his gestational age at birth.  However, when Sam was finally allowed to go home, he only weighed 4 lbs., which put him below the 3rd percentile on the growth chart, indicating significant growth failure.
Huge strides have been made in research to understand the best strategies to help these tiny babies not just survive, but to grow and thrive.  Unfortunately, many preterm infants do not grow after birth for many days and their subsequent growth does not keep up with normal fetal growth rates.  Like Sam, half of preterm infants suffer from growth failure.
It's important to remember that, fifty years ago, extremely preterm infants simply didn't survive.  Today, infants are surviving at just a little over halfway through a term pregnancy, defined as 38-40 weeks.  These tiny fighters are truly a new clinical population with complex needs, especially as it relates to nutrition and growth.
The Story of Saybie and Jemarius
Baby Saybie is the world's smallest surviving baby.  She was born at 23 weeks, three days gestation in December 2018 weighing a mere 245 grams (8.6 oz).  She was roughly the same size as a child's juice box.  Her mother suffered from preeclampsia, which caused her to have severely elevated blood pressure.  If left untreated, preeclampsia is a life-threatening condition that can slow a baby's growth in the womb.  If the baby's life were to be saved, she needed to come out, but her chances of survival were grim.  Saybie was so small. She charted under the 0 percentile on the growth chart.  However, despite her tiny size, a host of health complications, and nearly five months in the NICU, Saybie was discharged home weighing 5 pounds.  A true miracle.
Baby Jemarius is the youngest surviving premature baby in the world, born at 21 weeks, zero days gestation in December 2019, weighing 369 grams (13 oz).  His mother had a history of premature labor and had lost two other babies at 22 weeks of pregnancy.  When Jemarius arrived, his parents urged doctors to save their son's life, saying "just because you haven't done it, doesn't mean it can't be done."  The survival rate for infants born at 21 weeks is less than 4%.  Jemarius overcame numerous medical complications during his nearly six months stay in the NICU, but he was finally discharged home in June 2020.
Life After the NICU
A preterm infant can become a happy, healthy child, but they are often at greater risk for problems after discharge from the NICU.  After 101 days in the NICU, Sam was finally allowed to go home, but he was still on a feeding tube.  He stayed on that feeding tube until he was almost four years old.  He had a lot of nutrition and feeding issues and had a tough time gaining weight.  At four, Sam weighed 25 pounds – the same size as a 21-month-old.
Saybie and Jemarius appear to have defied the odds, for now.  This could change as they get older.  Preterm infants born this early are at higher risk of complications or ongoing disabilities like vision problems, hearing impairment, fine motor issues, language delays, and other learning disabilities, some of which may not show up until school age.  Chronic health issues, infections, and underdeveloped immune systems can affect a preterm infant and leave them more susceptible to illnesses than if they had been born full-term.
For several years after discharge from the NICU, preterm infants often make regular visits to NICU follow-up clinics, intended to help promote the growth and success of preterm infants. These clinics often include a team of specialists with expertise in identifying and assisting families in managing the challenges that preterm infants may face. They work with families and coordinate with other healthcare providers to create an individualized care plan to help preterm infants develop to their fullest potential.
Where Were We Twenty Years Ago?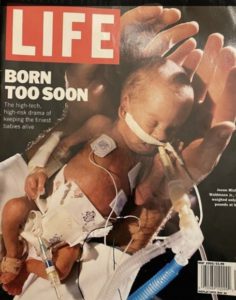 On May 1, 2000, the final issue of LIFE Magazine was published featuring the story of Jason Michael Waldmann.  Jason weighed just 1.2 pounds when he was born at 25 weeks gestational age.  Because of his organs' immaturity, his heart didn't beat, and his lungs couldn't draw breath.  His eyes were fused shut. However, due to advancements in modern medicine, Jason stabilized.  He became a feeder-grower.  His biggest challenge was to grow.  To grow so his parents could hold him.  To grow so he could go home.  But for Jason, discharge to home didn't mean he was out of the woods.
Today, preterm infants still face many of the same issues they faced twenty years ago – growth failure, immune-mediated diseases, and neurodevelopmental delays and disabilities.
Together For Babies Born Too Soon – Caring For The Future
This is the global theme for World Prematurity Day 2020.  This day is our chance to remember Sam, Saybie, Jemarius, Jason, and all babies born too soon and the health challenges they can face as they grow up. These little ones need loads of love and support, and World Prematurity Day is a chance to show it.
Wear your purple today!  The color purple stands for sensitivity and exceptionality.  The socks line has become a symbol for World Prematurity Day.  The small pair of purple socks – framed by nine full-size baby socks – symbolizes the 1 in 10 babies born prematurely.  Worldwide.